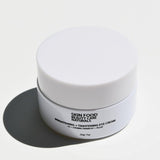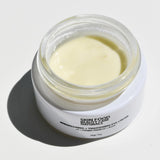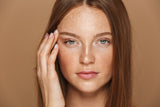 Brightening + Tightening Eye Cream
Day or night our eye cream has you covered and the ingredients need a stage for themselves. Packed full of hydrating Hyaluronic Acid, antioxidants, and powerfully nutritious and rejuvenating algae, this eye cream is going to give that delicate skin around your eyes the TLC and attention it deserves. 
*Ingredients sourced from organic farming 
Key ingredients:
Hyaluronic Acid
Hyaluronic acid aids in reducing under eye puffiness and swelling as it works to retain moisture, reducing inflammation, fine lines and damage.
Organic Evening Primrose Oil
Evening Primrose Oil (cold pressed) soothes and moisturizes the skin while enhancing elasticity. It promotes a healthy, clear, rejuvenated complexion with enhanced radiance and addresses roughness, wrinkles, redness, dryness, and irritation.
Organic Rooibos Leaf Extract
Rooibos, with all its antioxidants, helps fight free radicals in the skin and repairs damage brought on by the elements. Those trusty antioxidants also help soothe irritations caused by sunburn, eczema, inflammation and dryness of the skin.
Pomegranate Seed Extract
The high Omega 5 Fatty Acid (Punicic acid) levels in Pomegranate Seed Oil (cold pressed) has strong anti-inflammatory and anti-aging properties by helping to fend off free radicals. 
Organic Blue Green Algae
Chock full of antioxidants and nutrients, blue green algae is an incredible ingredient to be putting on your skin daily. Because blue-green algae is high in proteins and fatty acids, it helps to lift and tone your look. Second, the fatty acids work down deep to help firm and tighten your appearance.
CARE FOR YOUR NATURAL PRODUCTS IN THE SUMMER MONTHS:
If you live in a hot climate, please make sure you are tracking your package so your product doesn't sit in the sun. Cosmetics and skincare can melt.

Once you get package, open and place skin care in a cool place like a bathroom for a few hours before opening. The products will most likely need to come back to their consistency in a temperature controlled environment. Because we use zero chemical preservatives, and delicious organic oils, natural products can become loose and will need a couple hours to harden up again. Nothing is wrong with your product if it's loose, it applies and works the same, it's just a different consistency think like coconut oil. -With love, The BCN Team. 
Ingredients
Brightening + Tightening Eye Cream: 
Juice of Organic Aloe Barbadensis*, Olea europaea* Plant Derived (Cetyl) 
1-Otadecanol Alcohol* Simmondsia Chinensis*, 1-hexadecanol, Polyoxyethylene sorbitan monostearate, Stearic Acid (Magnesium stearate), Oenothera biennis*, HA (Hyaluronic Acid), Lavandula*, Aspalathus linearis*,Calendula officinalis*, Punica granatum, Algae* (Blue/Green), Tocopheral, Helianthus annuus, Polysaccharide Xanthane
Ingredient break down:
1-Otadecanol is stearyl alcohol: Fatty, non drying alcohol. Moisturizer and emulsifying agent.
1-hexadecanol is cetyl alcohol: Fatty ,non drying alcohol. Moisturizer and emulsifying agent
Polyoxyethylene sorbitan monostearate:  Safe, alternative emulsifying agent.
Size: .5 oz