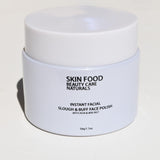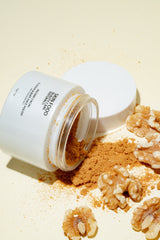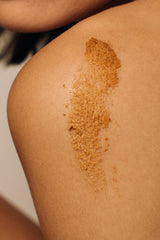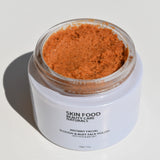 Instant Facial Exfoliating Polish
Slough away dead skin cells and gently buff your skin with our physical exfoliator face polish.  Instant Facial awakens the skin and gently polishes the top layer of skin making sure there is no build up of skin cells that can lead to pesky blemishes, dull skin, black heads and more. Use this 1-2 times a week and finish with one of our Serums, Nourishing Cream and our Royal Oil.  


*Ingredients sourced from organic farming 
Key Ingredients: 
AHA's: These are wonderful in reducing inflammation, minimizing pore size and unclogging pores, getting rid of excess old skin build up, evening skin tone and reducing fine lines and wrinkles. 

White Willow Bark: Calming to the skin and a powerful natural astringent, white Willow is great at keeping blemishes and troublesome skin at bay. 
Walnut Shells: These finely ground shells are a natural way to physically exfoliate the skin in a sage and effective way.


How To Use
Take off make up and apply to clean skin with a bit of water, very gently work in circular, upward motion for 30 seconds to a minute. It can be mixed into your cleanser or honey for an even gentler application. Let sit on skin for 2-5 mins and then rinse off with water or wipe of with our dampened reusable wash pads. Pat dry and apply the rest of your skin care. 


Ingredients
Juglans Regia (Powder of Walnut Shells) *Juice of Aloe Barbadensis, Decyl Glucoside, Lauryl Glucoside, Cocamidopropyl Betaine, *Lavandula Angustifolia (Lavender), Anthemis Nobilis (Roman Chamomile) Glycerin, *Simmondsia Chinensis (Jojoba), Rosa Canina (Rosehip), AHA's of: (Glycolic, Malic, Tartaric, Lactic, Citric) Hydrolyzed Protein (Wheat), DL-Panthenol (B5), Tocopherol, Helianthus Annuus (Sunflower)(cold pressed high oleic), *Avena Sativa (Oatstraw), *Salix Alba (White Willow), Mentha Piperita (Peppermint), Xanthan Gum, *Alcohol, Less than 1% Phenoxyethanol, Tetrasodium EDTA. *Organic 
 Scent profile: Peppermint essential oil. 
Ingredient break down:
Phenoxyethanol (Less than 1%): Preservative at proven safe levels. 
Tetrasodium Glutamate Diacetate: Safe, alternative preservative. 
The alcohol combo in all our products is non drying, non irritating formula made with food grade fatty alcohol acting like an emollient,
and with organic preserving and ingredient penetrating ethanol and is quite moisturizing making our products formulated different than those with traditional alcohol. 
Certified organic alcohol, also known as ethanol (not to be confused with isopropyl, or rubbing alcohol), is said to be able to extract more phytochemicals than other substances used for extraction, such as glycerin, propylene glycol or water. With a wider spectrum of botanical phytochemicals present, the end product is richer, more opulent and high potency of key ingredients. Organic Alcohol is also an effective emulsifier and carrier, helping ingredients penetrate the skin. Objections to alcohol in skin care products usually cite the tendency of alcohol to dry the skin.  We have purposefully formulated our ingredients so the alcohol balance is safely preserving our products naturally, while to not be drying.
Cetearyl Alcohol Facts: Not only is it considered safe and nontoxic for use on the skin and hair, but it's also not drying or irritating like other types of alcohol. Due to its chemical structure, cetearyl alcohol is even permitted by the FDA as an ingredient in products labeled "alcohol-free."