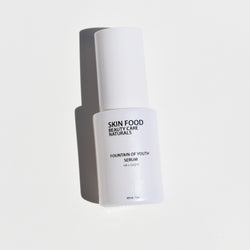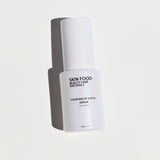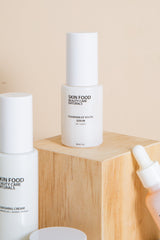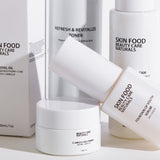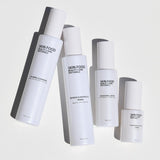 PRE ORDER AVAILABLE TO SHIP OUT SEPT 24

Fountain Of Youth Serum:
Drink deep of an anti aging well. In a base of rose distillate and aloe (Think rose water benefits galore), our fountain of youth serum is truly a well of nourishing and renewing ingredients. Formulated skin loving ,non greasy and anti blemish oils, moisture-boosting hyaluronic acid and healing, restoring CoQ10 this serum keeps you looking young while delivering properties that target cell renewal. 
Helps to tone, hydrate, soften and revitalize skin.
In a base of delicate rose distillate and organic aloe.
 Star Ingredients

Hyaluronic Acid is known to alleviate dry skin and reduce the appearance of fine lines and wrinkles it continually keeps skin moisturized throughout the day and is a substance found naturally in our skin that holds water and helps keep it hydrated and plump. 
CoQ10 works to help your cells remove what's irritating cells and your skin. Reduces the appearance of wrinkles and fine lines: This ingredient helps your body produce collagen and elastin, which can reduce the appearance of fine lines.
Niacinamide 
Niacinamide supports the skin biome barrier (the outer surface of skin), increases its resiliency, and improves texture by making pores look smaller. It also helps balance oil production plus it's good for all skin types.
 Ingredients
Rosa Damascena, Juice of Organic Aloe Barbadensis, 1-octadecanol, 1-hexadecanol, Polyoxyethylene sorbitan monostearate, Glycerinum, Dimethylaminoethanol Bitartrate, Oil of Limnanthes Alba, Tocopherol, Oil of Helianthus Annuus (high oleic cold pressed), Magnesium Ascorbyl Phosphate (Vitamin C), Oil of Daucus Carota Sativa (Carrot), Hyaluronic Acid, CoQ10 (Ubidecarenone), Vitamin Profile:Vitamins A, C, B3, B5, and E In the form of-Beta Carotene, Vitamin A Palmitate, Alpha Lipoic Acid, DL-Panthenol, Niacinamide, Organic Sugars (Cane and Maple), Organic Vaccinium Myrtillus (Bilburry), Organic Lemon and Orange Peel (Citrus Sinensis, Citrus Limon) Organic Vaccinium Macrocarpon (Cranberry), Organic Alcohol, Ricinus Communis (Castor), Lecithin, Xanthan Gum, Citrus Oil, Phenoxyethanol (Less than 1%), Tetrasodium Glutamate Diacetate
Ingredient break down:
Unscented.
1-Otadecanol is stearyl alcohol: Fatty, non drying alcohol. Moisturizer and emulsifying agent.
1-hexadecanol is cetyl alcohol: Fatty, non drying alcohol. Moisturizer and emulsifying agent
Polyoxyethylene sorbitan monostearate is a safe, food grade alternative emulsifying agent.
Phenoxyethanol (Less than 1%): Preservative at proven safe levels. 
Tetrasodium Glutamate Diacetate: Safe, alternative preservative. 
 The alcohol in all our products is non drying, non irritating food grade fatty alcohol. It acts like an emollient, is quite moisturizing and is chemically different that traditional alcohol. 
Cetearyl Alcohol Facts: Not only is it considered safe and nontoxic for use on the skin and hair, but it's also not drying or irritating like other types of alcohol. Due to its chemical structure, cetearyl alcohol is even permitted by the FDA as an ingredient in products labeled "alcohol-free."
Size: 
Fountain Of Youth Serum: 1oz