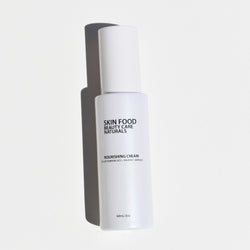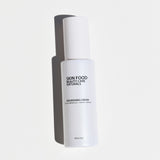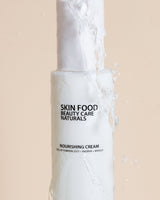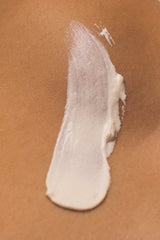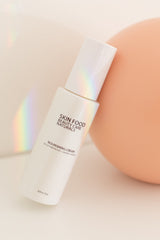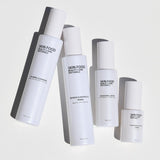 Nourishing Cream:
This versatile, vitamin rich day and night cream is the perfect moisturizer for all skin type's needs. Anti aging, super antioxidant, non comedogenic, balancing  and lightweight yet ultra hydrating without being greasy, you'll find that is goes on light but is very effective. Moisturizing and nourishing, this helps keep skin looking, bright, healthy, hydrated and youthful. 
*Ingredients sourced from organic farming 
 Ingredients

*Juice of Organic Aloe Barbadensis,Avocado Fruit Oil (Persea Gratissima) ,Arachidyl proprionate (Cetearyl Glucoside), Cetyl/Cetearyl Alcohol, *Organic Jojoba Seed Oil (Simmondsia Chinensis), Organic Rooibos Leaf Extract (Aspalathus Linearis), Cold Pressed Organic Pumpkin Seed, Cold Pressed Organic Marula , Cold Pressed Organic Baobab, *Alcohol, Vitamin E, NON GMO, cold pressed high oleic Sunflower Seed Oil,Vitamin A Ester (Retinyl Palmitate), Vitamin C Ester (Ascorbyl Palmitate), Provitamin B5 (DL-Panthenol), Organic Neem Seed Oil (Melia Azadirachta), Organic Rosemary Leaf Extract (Rosmarinus Officinalis),Xanthomonas campestris (Xanthan) . *Organic
(Please note, all up to date ingredients are online, the boxes may be a previous version of the formula as to reduce waste we do not throw out previous boxes if we do an update.)
 Nourishing Cream: 2oz 
The alcohol combo in all our products is non drying, non irritating formula made with food grade fatty alcohol acting like an emollient, 
and with organic preserving and ingredient penetrating ethanol making our products formulated different than those with traditional alcohol. 
Certified organic alcohol, also known as ethanol (not to be confused with isopropyl, or rubbing alcohol), is said to be able to extract more phytochemicals than other substances used for extraction, such as glycerin, propylene glycol or water. With a wider spectrum of botanical phytochemicals present, the end product is richer, more opulent and high potency of key ingredients. Organic Alcohol is also an effective emulsifier and carrier, helping ingredients penetrate the skin. Objections to alcohol in skin care products usually cite the tendency of alcohol to dry the skin.  We have purposefully formulated our ingredients so the alcohol balance is safely preserving our products naturally, while to not be drying.
Cetearyl Alcohol Facts: Not only is it considered safe and nontoxic for use on the skin and hair, but it's also not drying or irritating like other types of alcohol. Due to its chemical structure, cetearyl alcohol is even permitted by the FDA as an ingredient in products labeled "alcohol-free."