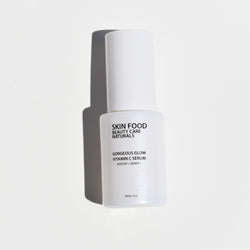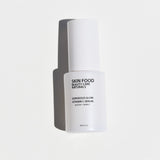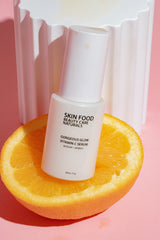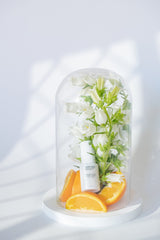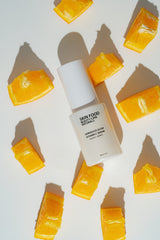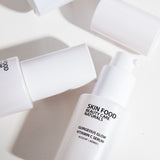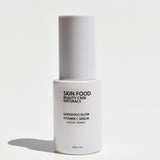 Gorgeous Glow Vitamin C Serum
Gorgeous Glow Vitamin C Serum: Brightens, soothes inflammation and targets skin irregularities.  Our Vitamin C Serum is your super antioxidant protection to be applied in the AM for assuring sure your skin is protected from all the free radicals our skin enconters during the day. This is the first line of defense in your anti aging and preventative skincare routine. Made with 15% ascorbic acid and packed full of botanicals and antioxidants. 
 Key Ingredients
R

osehip oil-(Cold pressed) This oil brightens, improves complexion, lightens dark spots, reduces the appearance of acne scars.

O

rganic neem oil-works as a protective agent against

skin

damage caused by UV rays. It deeply penetrates

skin

to restore moisture, enhance elasticity, smooth wrinkles, stimulate collagen production, and heal cracks caused by dryness.

 Vitamin C (L-Ascorbic Acid) Reduces redness and inflammation,  clears skin, brightens and tones.

Vitamin E-helps with scarring.

O

rganic cranberry, red raspberry and blueberry cold pressed extracts :

The acid in

cranberries

acts as an exfoliant and

vitamins

like A and C help boost collagen production. 

As a great source of

antioxidants

and vitamins A and E, red raspberry seed oil can slow down oxidation on the skin to help with the aging process, stimulate collagen production, and help your skin appear more youthful and vibrant. Blueberry extract is one of the top sought-after natural skincare

benefits

. The antioxidants present in

blueberries

combat free radicals from sun exposure and can stop cell damage. 

*Ingredients sourced from organic farming 
Ingredients
*Juice of Organic Aloe Barbadensis, Glycerine (Glycerin), Rosa Canina Fruit (Rosehip Seed, cold pressed) Oil, 1-octadecanol (Cetyl alcohol) , 1-hexadecanol (Stearyl alcohol), Polyoxyethylene sorbitan monostearate, Ascorbyl palmitate, Tocopherol,Helianthus annuus (Sunflower cold pressed High Oliec), Less than 1% Phenoxyethanol, L-Ascorbic acid 15% (Vitamin C), Cold Pressed Extracts of: *Vaccinium macrocarpon (Cranberry),  *Rubus idaeus (Raspberry), *Cyanococcus (Blueberry), *Salix alba (White Willow Bark), Cetyl Alcohol, *Azadirachta indica (Neem), *Salvia rosmarinus (Rosemary), *Helianthus annuus (Sunflower cold pressed High Oliec), Organic Alcohol*, Tetrasodium Glutamate Diacetate. *Organic
Ingredient break down:
1-Otadecanol is stearyl alcohol: Fatty, non drying alcohol. Moisturizer and emulsifying agent.
1-hexadecanol is cetyl alcohol: Fatty, non drying alcohol. Moisturizer and emulsifying agent
Polyoxyethylene sorbitan monostearate is a food grade, safe, alternative emulsifying agent.
Phenoxyethanol (Less than 1%): Preservative at proven safe levels. 
Tetrasodium Glutamate Diacetate: Safe, alternative preservative. 
Size: 1oz
The alcohol combo in all our products is non drying, non irritating formula made with food grade fatty alcohol acting like an emollient,
and with organic preserving and ingredient penetrating ethanol and is quite moisturizing making our products formulated different than those with traditional alcohol. 
Certified organic alcohol, also known as ethanol (not to be confused with isopropyl, or rubbing alcohol), is said to be able to extract more phytochemicals than other substances used for extraction, such as glycerin, propylene glycol or water. With a wider spectrum of botanical phytochemicals present, the end product is richer, more opulent and high potency of key ingredients. Organic Alcohol is also an effective emulsifier and carrier, helping ingredients penetrate the skin. Objections to alcohol in skin care products usually cite the tendency of alcohol to dry the skin.  We have purposefully formulated our ingredients so the alcohol balance is safely preserving our products naturally, while to not be drying.
Cetearyl Alcohol Facts: Not only is it considered safe and nontoxic for use on the skin and hair, but it's also not drying or irritating like other types of alcohol. Due to its chemical structure, cetearyl alcohol is even permitted by the FDA as an ingredient in products labeled "alcohol-free."