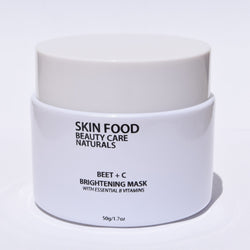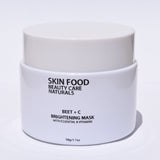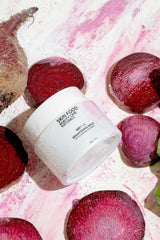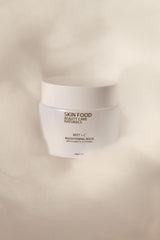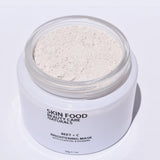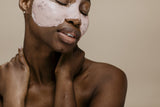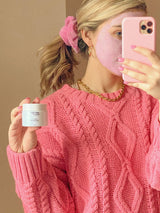 This earthy nutrient packed mask is a your mid week bff. It's loaded with Vitamin C and essential B vitamins and will brighten and lift dull skin for the perfect pick me up. 
 Ingredients
Key Ingredients:
Beet Root
Beetroots are rich in Vitamin C, silica and antioxidants which helps in clearing blemishes and evens out your skin tone while giving it a natural glow.
- Combats dry skin
-Brightens skin and lightens darks spots
-Keeps blemishes at bay
-Feeds the Skin with essential vitamins and minerals + antioxidants 
Kaolin & Bentonite Clay
A gentle exfoliant for even the most sensitive skin types, kaolin clay removes old skin cells, dirt and impurities effectively but never harshly. Bentonite, because of its super absorbing capabilities, is a great clay for oily skin since it can suck up all that excess sebum easily. It has electric properties that when mixed with water makes the molecules charged and attracts toxins out of your face and to the clay kind of like a magnet. It can absorb any swelling from excess sodium in your face. With its tightening, acne-clearing, and impurity-absorbing abilities, bentonite is a go-to for any skin concerns.
Essential B Vitamins
Vitamin B3 can help to improve the condition of the skin, helping to treat rosacea, acne, eczema, dermatitis, hyper pigmentation, sun-damaged, aging and dry skin – so it's a must-have vitamin for healthy, glowing skin.
Provitamin B5 stabilizes the skin barrier, which reduces the amount of water that is lost through the skin and thus helps to improve skin softness and elasticity. Provitamin B5 provides relief from itching and reduces redness.
 Ingredients
Sustainable Kaolin/Bentonite Clay blend, Beta Vulgaris Rubra (Beet). Vitamins: Panthenol (B5), Ascorbic Acid (Vitamin C), Niacin (B3)
How To
Mix 1 part mask with 1/4- 1/2 part water in glass bowl or jar cap. (Add in slow to find the consistency you like. You can't go wrong. Use our mask brush to paint on clean, dry skin. Let sit for 20 mins. Rinse and finish skin care routine. Use 1-2 times a week. We like to switch off between our Fruit Enzyme Mask and this mask. 


Size: 2oz